Hygiene and production processes hand in hand with industrial productivity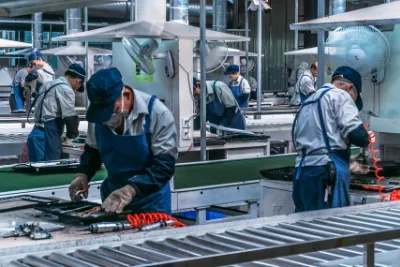 As you already know and better than us, the corporate production process is an art. We also know how much it takes to maintain a production rate over time. For that reason, there is a topic that is always present. It's about cleaning. Since, maintaining that hygiene sometimes becomes a headache. Because, there are many factors that come into the picture.
Each sector and branch of production has a common factor that requires hygiene to function well
It is also a reality that, due to the number of branches that the industrial sector has, the treatments are different. However, here we tell you in a general way what you can do to maintain maximum hygiene. Be it from the food sector, laboratories, automotive. Also telecommunications, metallurgy or any type of manufacturing or other items found in industrial parks. The idea is that your company or factory has an impeccable appearance and is disinfected to avoid greater evils.
With order and cleanliness, progress is made towards health and integrity
In an attempt to simplify what industrial cleaning means, we are talking about those sanitation processes carried out in mass production manufacturing spaces. Composed of corporate, factories, industrial buildings. Including offices and others. The highest purpose is to preserve hygiene and order from the established standards of health. All this, to preserve the health and avoid accidents.
We give you some tips that will help you achieve a high level of cleanliness. Whatever your industrial activity
It is necessary to keep the stained glass windows and window panes clean. They have an important effect on the perception of cleanliness of any space. It is vital to take the relevant safety measures if they are windows at a certain height and provide the workers who will carry out this task with the appropriate equipment. In addition to the products indicated for this purpose.
It is a reality that industrial spaces generally maintain a fast pace and a lot of movement. For that reason, we recommend keeping the order as strict as possible. This, together with systematic cleaning, will help you reach your production goals and develop productivity.
Whoever is in charge of maintaining your industrial facilities must take into account ventilation. This to avoid blocking the aeration zones and the air extractors and industrial fans. That, together with a deep and well-organized disinfection, can make the difference in terms of the health and well-being of workers.
The removal and management of residues and waste of any kind must be safe and with environmental care characteristics. There is also a need for the incorporation of protective equipment and the development of a protocol that complies with environmental standards and provides safe and prompt treatment to this waste.
Regarding the common spaces of your industrial area, there are areas where workers meet, eat or simply spend their free time there. The cleaning action of the work groups dedicated to cleaning must arrive there. Since, it is a place that must be kept neat and in first class conditions.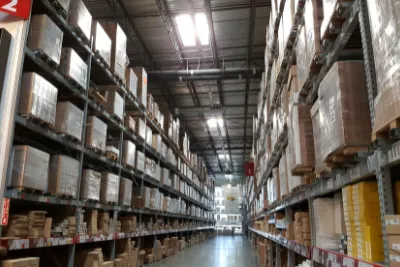 It is healthy to maintain the balance of your actions within the place of production to do constant cleaning. In other words, do not let cleaning and maintenance work accumulate. This increases the chance of success. This implies doing maintenance to machinery and tools with a regular periodicity that guarantees its effectiveness and care.
Prevent materials such as grease or dust that could cause accidents from staying for a long time, especially on the floor, where a system must be created that keeps it free of substances that pollute and take away the pleasant appearance of those work sites.
It is advisable to leave these hygiene tasks to a company that has the specialized personnel, the machines and the appropriate equipment for each type of industry. This way you can be confident that what you produce will take place in a pleasant and uneventful environment.
This cleaning action is also transferred to the bathrooms of the workers and employees. Where it is known, there may be sources of infection that require a deep disinfection action. With effective products that are also low in contamination.
In the world of industrial production, hygiene should aim to create neat floor, ceiling and wall characteristics. In the same way, to be able to remove stains of any kind, from dangerous substances and contaminants that affect and deteriorate the work environment.
Secure your production spaces with a high-carat disinfection
The main thing is that those places where production takes place are free of any contaminating risk for employees and visitors. Therefore, it is good that you review the options regarding the hiring of companies that perform this hygiene service for you. It is a matter of balancing the peace of mind of knowing that your cleanliness is guaranteed by human teams that take care of everything. That is an advantage that you can have at hand.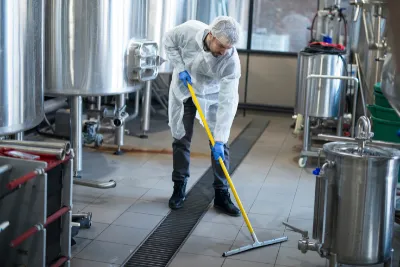 That place where cleanliness is present: your production space
Imagine the series of benefits that it brings you to make your factory a place where cleanliness reigns and everything is perceived as truly impeccable. That is a success that generates tranquility. Since, hygiene is part of what you show to others and especially to your own workers, who will feel the pleasant taste of success in each task.
Invest in the cleanliness and disinfection that will give you victory
Investing in such hygiene is vital and complements your other production strategies. Join those who have achieved the cleanliness and productivity alliance that distinguishes them and adds the value of neatness. We are at your disposal by email: info@jh360cleaning.com As well as the landline: +1 9052069878. Also whatsapp or for calls +1 6478234444.