One of the most sensitive areas of the office in terms of hygiene are the bathrooms. Being aware of the frequency, manner and products to be used is part of what you should know if you have not hired a company that guarantees that deep cleaning. For this reason, you must take the necessary precautions to guarantee that this disinfection is really effective.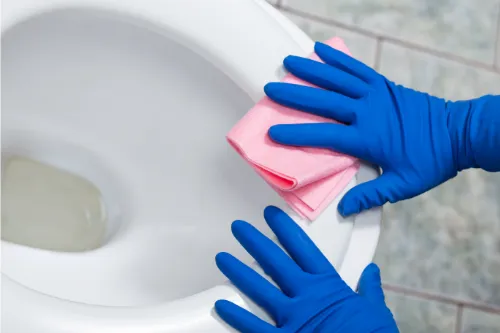 We know the importance of keeping your work spaces, such as bathrooms, disinfected
You already know that keeping it clean in a deep way is a necessity that must always be kept in mind. Above all, in those points that, due to use, are in constant contact with the people who work in the different offices. Disinfecting means sterilizing spaces. Hence the importance of taking into account what helps you clean it up effectively. At work sites it is recommended to clean and disinfect daily.
The relationship between the use of the facilities and the care of the bathrooms
Remember that bathroom hygiene is related to the number of people who use it. In the same way, if they are accessible to people other than office staff. Therefore, the greater the number of users, the more care that must be taken.
In addition, the type of bathroom or the physical components they contain, their structure, functionality (if they have showers, bidets or others), the number of hours of daily and weekly work, among other factors have to be taken into account for such disinfection.
Here are some tips to achieve disinfection without headaches
Use the implements that are proper for such disinfection such as gloves, masks, aprons among others. Maintain the safety of the personnel in charge of this delicate task.
To save time and ensure the objective, maintain a protocol that those responsible for carrying out this disinfection comply with. That happens by complying with the steps agreed in advance to sanitize each space of that bathroom that is so vital for your activities.
If you have mats, rugs or any accessories on the floor, pick them up before you start cleaning. Like, utensils such as brush holders, movable shelves. And products such as soaps or shampoos and others. That will make the task easier.
Likewise, before using liquid products, vacuum or sweep. This will allow you to pick up fibers and hair that are common on bathroom floors.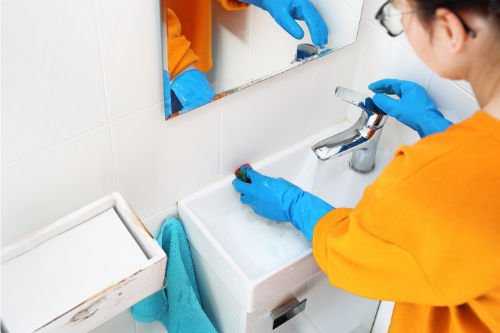 To use hypochlorite, provisions such as gloves and face masks must be used. Make sure the area is as well ventilated as possible and use 90% water and 10% chlorine for the floor.
For the tiles you can use a less strong product such as apple cider vinegar. Taking the precaution to avoid mixing it with hypochlorite.
Use a paper towel to dispose of it later. In the same way, cleaning glass and mirrors with sponges and sprays.
Emphasize the disinfection of handles, tables and counters, electricity switches, railings and hand rests, doorknobs and others.
Dry the spaces of that bathroom carefully. Keeping the spaces used in your offices dry is a sign of cleanliness.
The power of disinfection and maintaining cleanliness in your office bathrooms
Everything you contribute to hygiene that results in disinfection is a point in your favor. Since, you are giving general health to your employees and you are contributing to public health with a pleasant atmosphere generated by entering a bathroom where the neatness, good judgment and excellent organization that you exhibit are perceived. Therefore, paying attention to those work details is a smart decision that shows your leadership.
Keep supervision in mind throughout the disinfection process
It is recommended that if you hire a staff to do these sterilization and hygiene tasks, you have supervisors who certify such delicate tasks. Therefore, if you made the decision to use the corporate services of a specialized company, take into account if its protocol includes permanent supervision for work safety. The important thing is that this process is based on actions that confirm this disinfection.
Disinfecting the bathrooms in your office is a task of care
The important thing about the actions that seek to keep your bathrooms disinfected is that the complete cleaning protocols are followed. For this, the appropriate products, tools and devices must be used. Like, the ideal personnel for that action. All of the above is combined so that you are calm in that regard. If you want a guaranteed and efficient office cleaning service, contact us by: email info@jh360cleaning.com Like the landline: +1 9052069878 If you want to communicate by Whatsapp or call +1 6478234444. We are always there for you.