Cleaning any industrial space is an important task, especially when it comes to the hygiene of warehouses that house manufacturing and production activities. These spaces are typically large in size, as they house different machinery, equipment, tools, and materials that require a clean and organized environment.
A complex task
Keeping industrial warehouses spotless is not an easy task, as there is a lot of movement of people and objects, and the space accumulates dust, dirt, and other materials. It is necessary to know the correct way to apply hygiene to these spaces that accumulate dirt and dust due to the activities that take place there.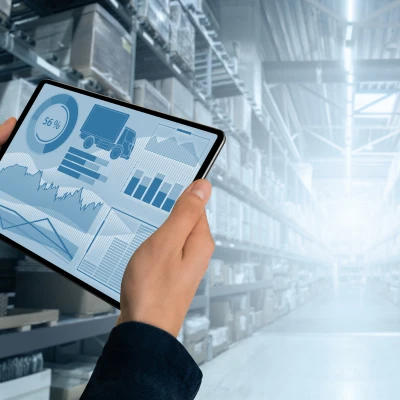 What is and how to do effective cleaning in an industrial warehouse?
Cleaning a production facility involves implementing a series of actions, techniques, and methods to maintain a clean and orderly environment that facilitates optimal industrial production on-site. In warehouses, for example, where there is more activity, constant supervision is required to keep them clean and functional.
Here are the 4 most common types of warehouses based on their structure and materials:
Steel warehouses: These are made up of metal structures that can be quickly assembled. They are typically large and well-lit spaces.
Prefabricated concrete warehouses: These are easy to assemble and put into operation.
Traditional concrete warehouses: These are considered to be very durable, although they require more intense cleaning.
Mixed warehouses: These are a combination of steel and concrete structures and are the most common.
Mastery of cleaning techniques is vital
Cleaning these types of structures that serve as a backdrop for large-scale production activities requires professional human teams with experience and knowledge of how to tackle such tasks. They must master different techniques to clean both the exterior and interior of these production spaces.
Due to their importance, industrial warehouses require effective maintenance that implements protocols and methods that guarantee efficiency. This is achieved through the implementation of procedures that need to be coordinated and prepared in advance.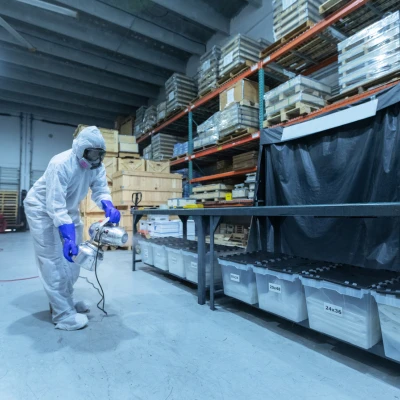 Types of industrial warehouses and how to clean them safely and effectively:
Cleaning pharmaceutical industries:
Due to the nature of the sector, there are laboratories within these warehouses that require disinfection to eliminate microorganisms.
Industrial factories:
One of the priorities is to keep production areas clean, taking into account the removal of material stains to ensure aesthetics, safety, and accident prevention.
Cleaning of livestock warehouses:
The care provided by those responsible for this type of hygiene is extremely delicate, as there may be elements that cause disease. Hence, the responsibility of those responsible for carrying out the cleaning.
Cleaning is personalized according to the materials and methods used
There is a range of industrial warehouses with their own characteristics and peculiarities. Nevertheless, the techniques and methods for cleaning are based on the needs of these production centers. Here are some cleaning methods and materials that you can use:
Foam cleaning: this technique involves the propulsion of foam, which is usually used before applying high-pressure water. This technique is ideal for cleaning high and hard-to-reach places.
Pressure cleaning: this method involves applying a high-pressure jet to the area that needs cleaning. If necessary, cleaning products can be added to make the cleaning more effective.
Cleaning with specialized industrial machinery: for this type of cleaning, the most suitable machines are sweepers and scrubbers. They come in different sizes and functionalities and are more effective than traditional cleaning methods.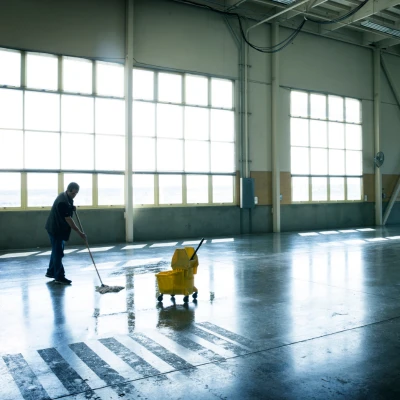 Solid vacuuming: if sweepers and scrubbers cannot access some areas due to their high difficulty, solid vacuum cleaners are recommended. These have great power and various components that increase their effectiveness.
Dry steam: this method is suitable for removing dirt, grease, and microorganisms stuck to surfaces. The technique involves sending high-pressure steam at 160 degrees. It is effective and has various uses.
A couple of recommendations regarding the cleaning of industrial warehouses
The most recommended way to clean these industrial warehouses is to hire a company that specializes in cleaning. However, if you decide to clean the warehouse yourself, it is important to take relevant precautions. This includes using safety and protection equipment such as gloves, masks, and appropriate clothing to avoid contact with toxic materials and prevent contamination. Also, use neutral soaps, degreasers, bactericides, effective disinfectants, and multi-purpose cleaners.
The relationship between cleanliness and efficiency in industrial warehouses
There is a direct relationship between cleanliness and the efficiency of production processes in companies that have machinery as their assets. Another detail to consider is to perform deep cleaning every so often to protect the expensive machinery you have and ensure its useful life, thus boosting productivity in your company.
Today we support you from our cleaning company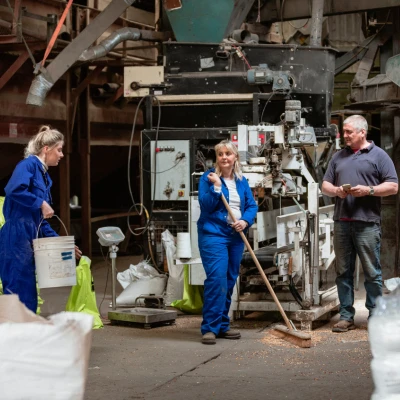 There are many reasons to choose to hire a company that is responsible for cleaning and maintenance processes. They must have qualities such as respect, support, and coordinated action, as well as training their workers. We are here to support you at info@jh360cleaning.com and +1 9052069878. If you wish to contact us via WhatsApp or call us at +1 6478234444.