Have you ever wondered how a hotel is maintained?
Maintaining a hotel neatly has its peculiarities and, above all, its protocols. It must be said that, to be effective, they require the commitment and monitoring of the processes that guarantee this maintenance. Like most businesses, or perhaps more than any other, hotels live on their good image and the comfort felt by customers.
The importance of maintaining excellent cleanliness in your hotel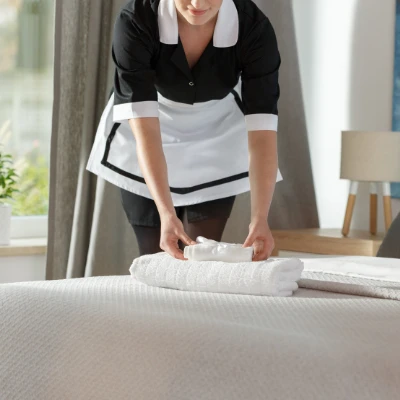 At this stage, where the pandemic has changed many perceptions in the tourism and hotel industry, a greater commitment to disinfecting and cleaning physical spaces is required. This is reflected in a reality that shows a more cautious client when staying. What must be worked on is the safety and hygiene that is required to be chosen over other alternatives.
Cleanliness is key for customers to visit you
The experience that the user has of the quality of your accommodation will depend, since any failure that appears in this regard could be taken as a reason for not staying at your hotel anymore and giving bad references. Provide your guests with pleasant and very comfortable spaces, that way you will achieve a positive opinion from customers.
The ideal of a hosting site is that its clients can enjoy very clean, disinfected and attractive spaces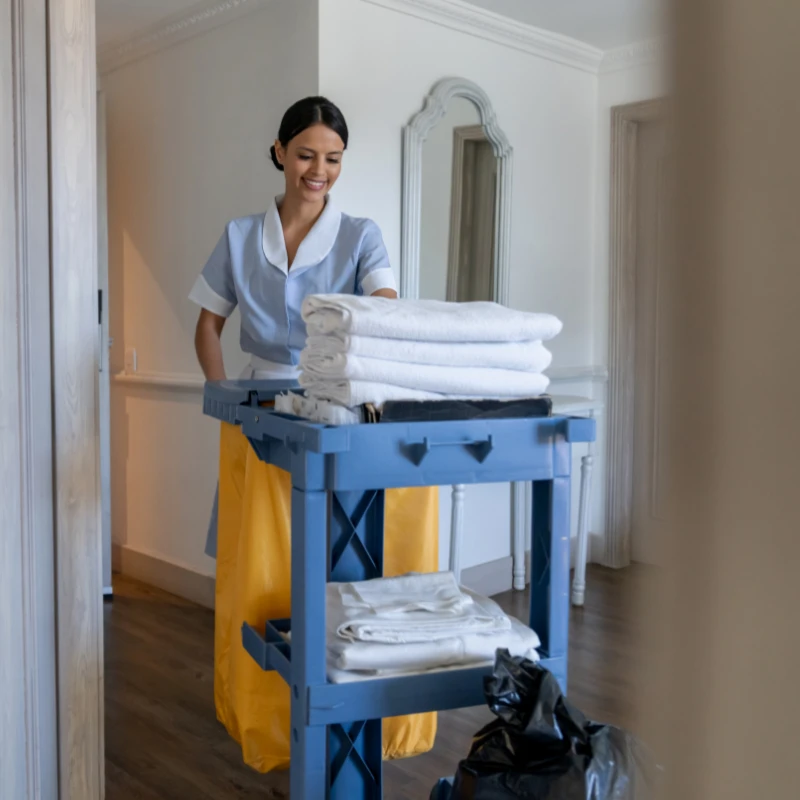 From every point of view, every time they decide to stay in your rooms, you must take care of appearance and hygiene. Among the activities that are carried out, we have the cleaning of the rooms, the quality controls and the maintenance of the public spaces, as well as the laundry. Keep in mind that places like the gardens speak of who and how we are in the world of lodging.
Show your best face through prevention and care
Showing protocol measures not only to visitors but to everyone who passes through the facilities is part of the actions that generate trust. If you are careful with prevention aspects, clients will feel that you are responsible and dedicated, that goes through the most detailed hygiene measures without falling into exaggeration. Neatness is seen in many ways.
What is cleaning and how is it different from disinfection?
You need to be able to recognize the difference between what is cleanliness and what is called disinfection. The action of cleaning generally removes germs, dirt and impurities from surfaces with soap or detergent, however it does not guarantee that it kills microorganisms that could be harmful, for this, disinfection is in charge since disinfecting kills germs that are onto objects and extensions more effectively.
Cleaning and disinfection for the excellence of your hotel
Although these procedures (cleaning and disinfecting) are complementary, they are not exactly the same and both are necessary in hotels, especially with the pandemic experience we had, everyone had bad memories of that terrible virus. The truth is that an environment where everything looks clean and pleasant will speak a thousand words and help guests feel safer and calmer.
Some things you should take into account when organizing and executing the cleaning and disinfection process in your hotel: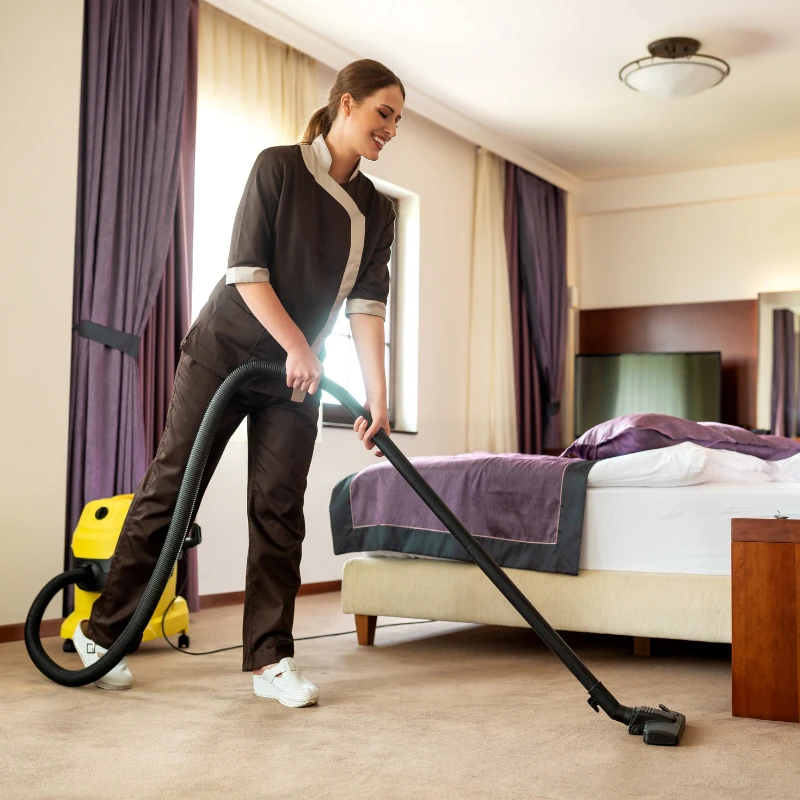 Design a list that guarantees you meet the goals of neatness without skipping any step of the process. The purpose of this action is to verify and support the work of the human team that works with you.
Keep fluid communication with the cleaning staff and especially with your guests. That, in addition to guaranteeing greater health and well-being in people, gives you an image of being careful and responsible.
Hire a professional company to support you with regular cleaning. Cleaning specialists are the most suitable for carrying out this deep cleaning. They will complement what you have been doing and will provide you with a hygiene certificate.
A whole team at the forefront of cleaning
If we concentrate on matters related to this cleaning, we must include the action of the housekeeper and those in charge of the lodging, who direct with the management team, the duties of cleaning the rooms, quality control, the common spaces of the hotel, in addition to the laundry and the surroundings such as gardens and other spaces.
A clean and pleasant environment that provides comfort
It is no secret to anyone that having high standards of cleanliness and providing an aura of comfort and relaxation adds to your cause. Since a pleasant stay will bring new visits, you will be able to position yourself through positive reviews on social networks or simply direct recommendations from your clients. There is a lot to contribute by maintaining that high-class image. Contact us by email: info@jh360cleaning.com as well as the landline: +1 9052069878. Also whatsapp or for calls +1 6478234444.